🇧🇷 Same news but in Portuguese
This newsletter's topics:
What's new in the latest version of Polygloss
Best feedback & shout-outs
Testimonial Contest Results
Language events
Recommended resources
Version 1.0 App updates
The app for Android and iOS are already published, go update it!
What's new?
🕖History of texts
You can now see the past texts you wrote by navigating to the library. All players will be able to their 10 last messages, and subscribers will be able to see their full history. Important note: matches written in previous versions of the app might not show immediately (I am gradually migrating the data to the new format that will show on the history).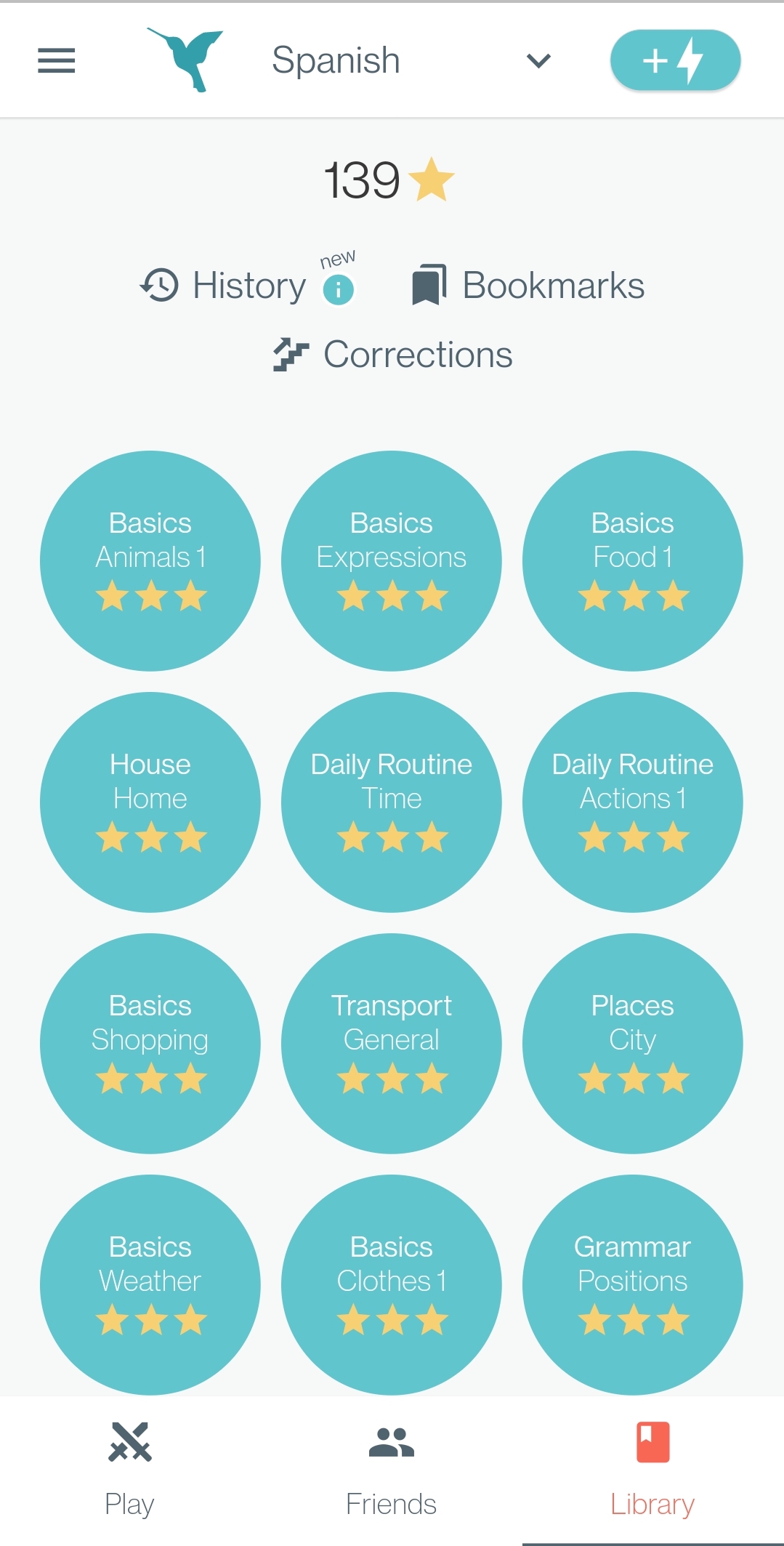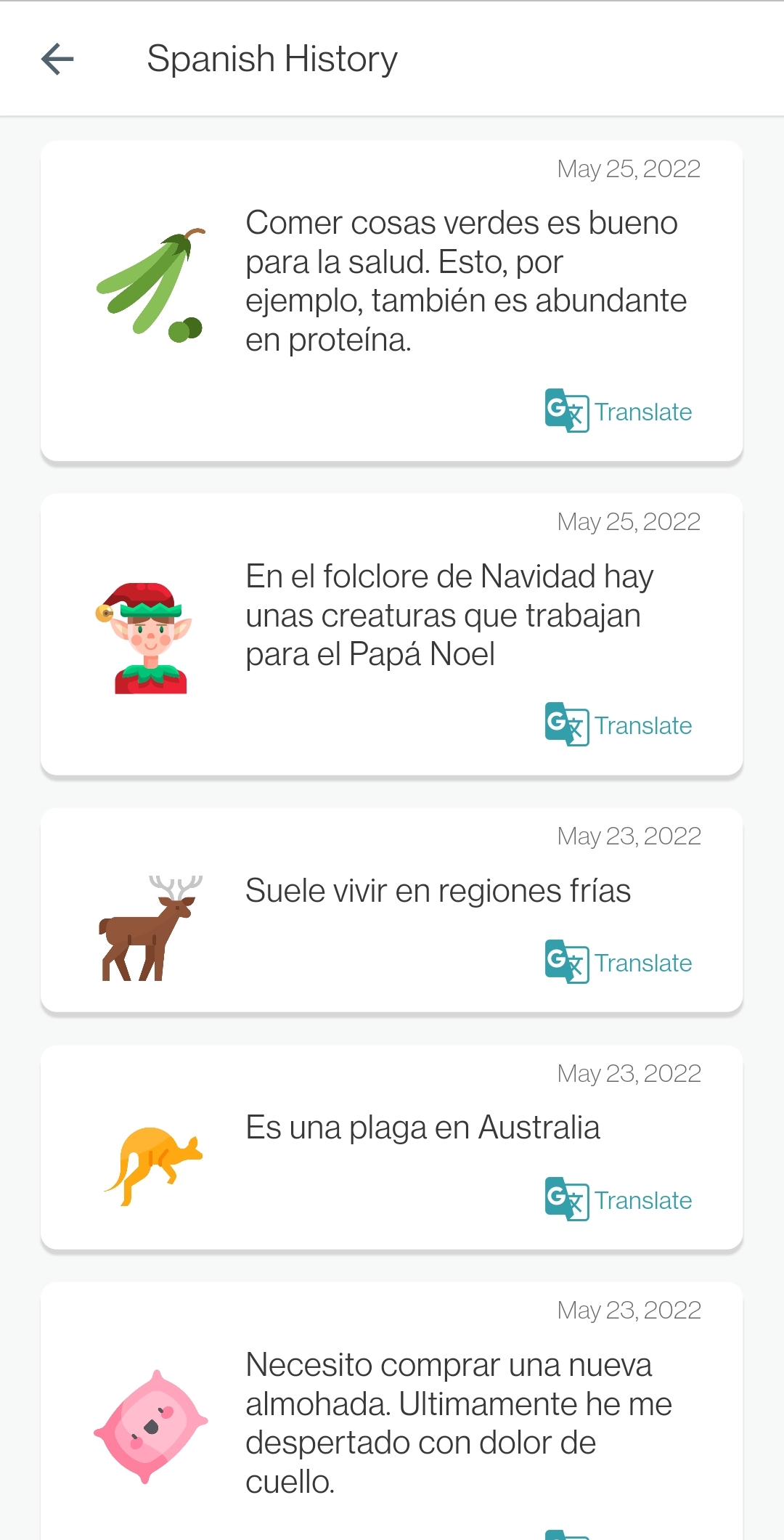 🕵️‍♀️Exploring tasks for new players who feel lost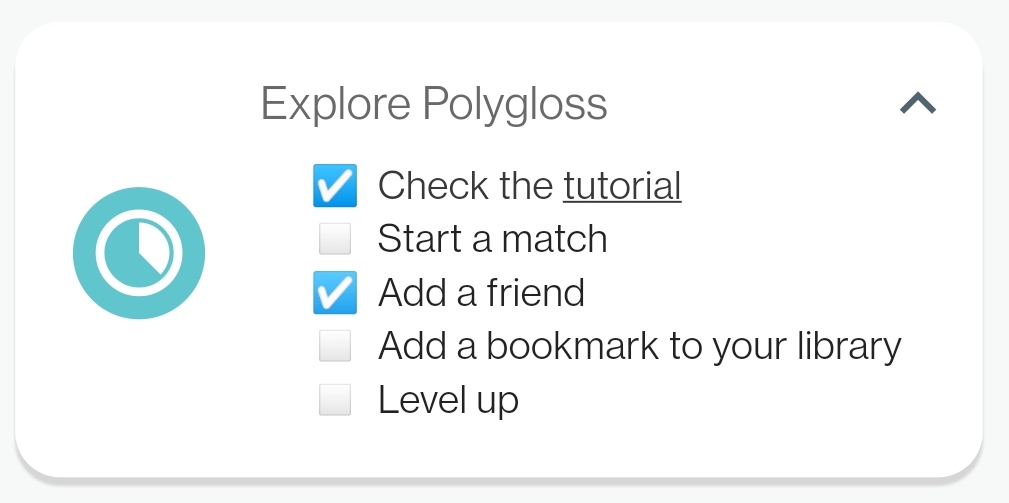 ⭐️"Rate us" message on iOS
🛑Report button to corrections
♻️Circular spinner while fetching matches
🗣Proficiency info on bookmarks and corrections
👉Selectable text on corrections and bookmarks
🥶Temporarily disabled daily challenges tab. There wasn't a lot of people using it and it required a lot of manual work to keep creating the challenges. I didn't post any for a while and nobody complained so now I disabled it until we rethink this feature for the future.
Lots of bug fixes and other improvements!
🐞Fixed bug with energy recovery
🐞Fixed bug retrieving stars
🐞Fixed crash on matches from deactivated players
🐞Fixed crash on reallocated matches from old app versions
🐞Fixed default language when creating account
🐞Fixed bug when getting match from inactive/waiting/reallocation queue
🐞Fixed bottom pop-up message not showing sometimes
🐞Fixed tooltip duration
🐞Fixed report/feedback menu for latest Android version
🐞Fixed bug in list of matches in progress that still showed matches that went to the reallocation queue
🐞(Attempted to) fix iOS subscription message
🐞Fixed error when sending match
🐞Fixed bug that saved correction even when choosing not to save
🐞Fixed bug that stopped players from removing languages added as "Other" from profile
🐞Fixed bug on cache cleaning on logout
✨Improved award collection message
✨Reworded latest news menu item and intermediate proficiency
👩‍💻Improved statistical reporting of matches
👩‍💻Record current number of matches pending
👩‍💻Code update & cleanup, with better error logging and prevention
Make sure you've upgraded:


Best feedback & shout-outs
Every time we send a newsletter, we might pick the players who gave us the best feedback or shout-out in social media and send them a surprise prize! 🎁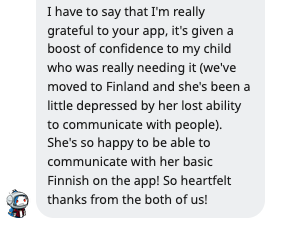 if you're looking to practise your writing in foreign languages @polyglossapp is great, really fun and oddly addictive

— Sophie Cameron (@sophiemcameron) April 20, 2022
Supporting Polygloss
👯‍♀️ Share Polygloss with your friends
Polygloss is a collaborative game, the more people play, the better the learning experience. Inviting other folks and helping us grow our community is the top first way to support us!
⚡️ Subscribe to Polygloss Unlimited
Polygloss is built by a small indie team. Your financial contribution allows us to spend more time making Polygloss better instead of looking for other jobs and keeping the app free to use for all players. This membership gives you unlimited energy points to use in-game, access to our VIP community, and is available at both our Android and iOS apps now!
Other ways to support Polygloss:
🌟 Write us a review at the Android Play Store or at the iOS App Store so more people can find and download it
🐦  Write a post about us on social networks!
💌 Send us feedback and suggestions
Testimonial contest results
Thanks for everyone who participated in our testimonial contest! After our internal voting with an anonymised version of the texts, these are the four testimonials we picked. Initially we picked three, but as one of them turned out to be a family member (Hi, tom 💖 ), we felt it was fair to pick one more since we had anticipated 3 packs of prizes 🎉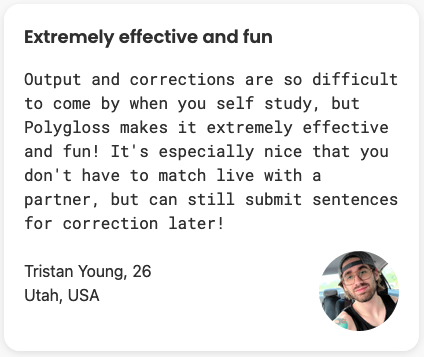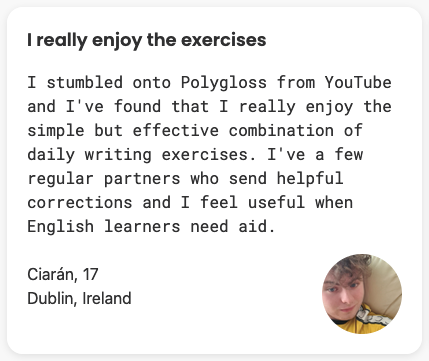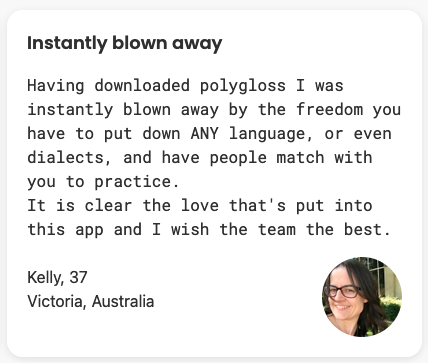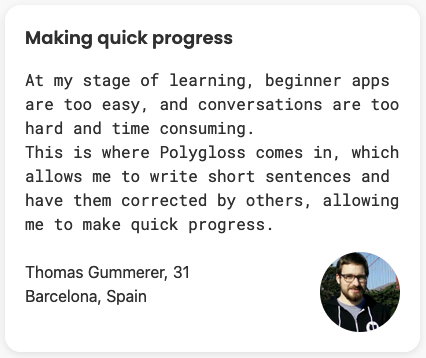 The prizes were: 1 year of free Polygloss subscription, free italki credits and a language book of choice. I'll be shipping the packages soon 🎁  What do you think of these prizes? Let us know in the comments below what prizes you think would be really cool for us to give out stay tuned to our newsletter to receive info about our next promos.
Language events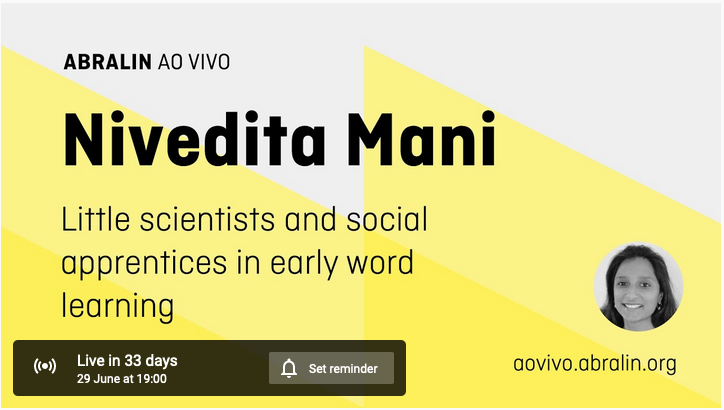 Nivedita Mani Little Scientists and Social Apprentices in Early Word Learning
When: June 29th, 5:00 PM (UTC)
Where: online
Random Fun Topics In Japanese
When: June 12th, 5:00 PM to 6:00 PM CEST
Where: online
Recommended
[Swahili] Complete Swahili course from the university of Georgia
[Japanese] NHK news web easy
[Spanish]
[English]
[Welsh]
---
What did you think of these updates? Drop a comment below, we'd love to hear your thoughts!
---