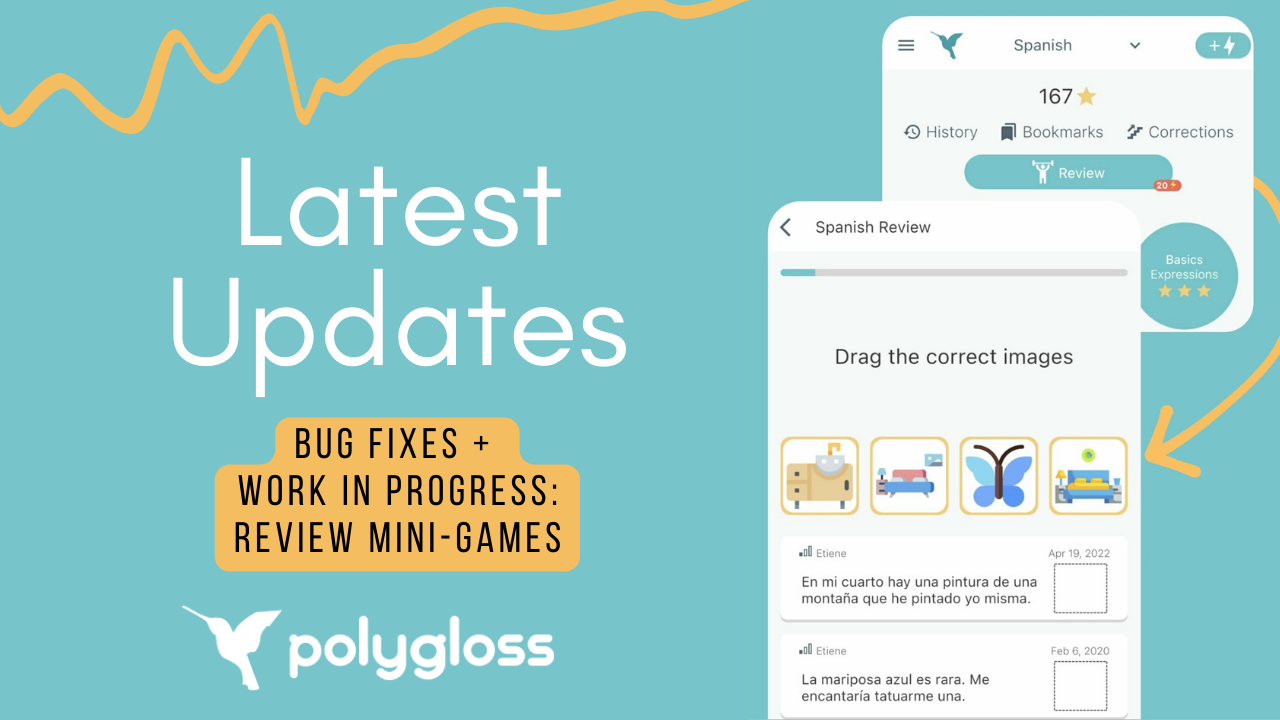 This newsletter's topics:
App updates: Bug fixes
Preview of next version: review mini-games
Latest from our blog: Learning Toki Pona, the language of good
Best feedback & shout-outs
Polygloss statistics
Supporting Polygloss
Recommended resources
Version 1.2.6 is out!
The latest versions contain several bug fixes. Click here to download / upgrade.
🐞 Fixed unlocked lessons taking a long time to show on library.
🐞 Fixed player report button.
🐞 Fixed match summary screen being cut in some phones.
🐞 Fixed gray screen error when collecting points.
🐞 Fixed error when unlocking hints.
🐞 Fixed error saving match points when hitting the back button.
🐞 Fixed tutorial requirement on library.
🐞 Fixed occasional crash when switching screen.
🐞 Fixed account delete button.
🐞 Fixed bottom message when collecting awards.
🐞 Fixed online bubble.
🐞 Fixed typos.
✨ Shuffle through more unlocked lessons at the end of the game.
✨ Swapped position of lesson "Daily Routine: Time" with "Places: City".
✨ Added line break on text sent message. ✨ Improved error reporting.
Work in Progress Preview
For the next version (1.3), I've been working on a feature I've wanted to introduce for a long time: the ability to review matches through mini-games. A while ago, I wrote a blog post about it to get the idea out and start collecting feedback. While the idea matured, I focused on some other parts of the app, and now have finally started implementing this. These are real screenshots from the developer app, and I'm very excited to get this finished and published soon 🥰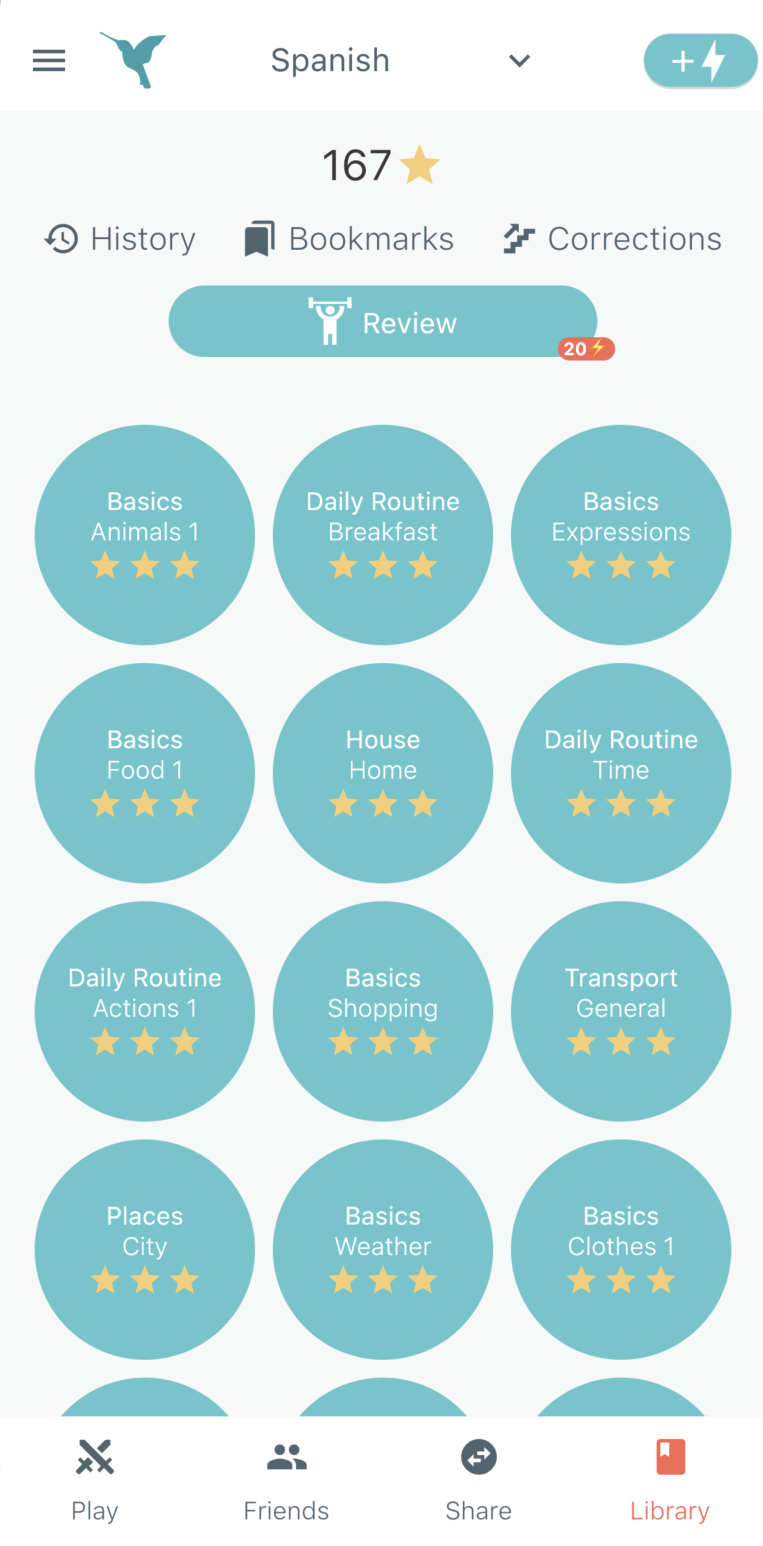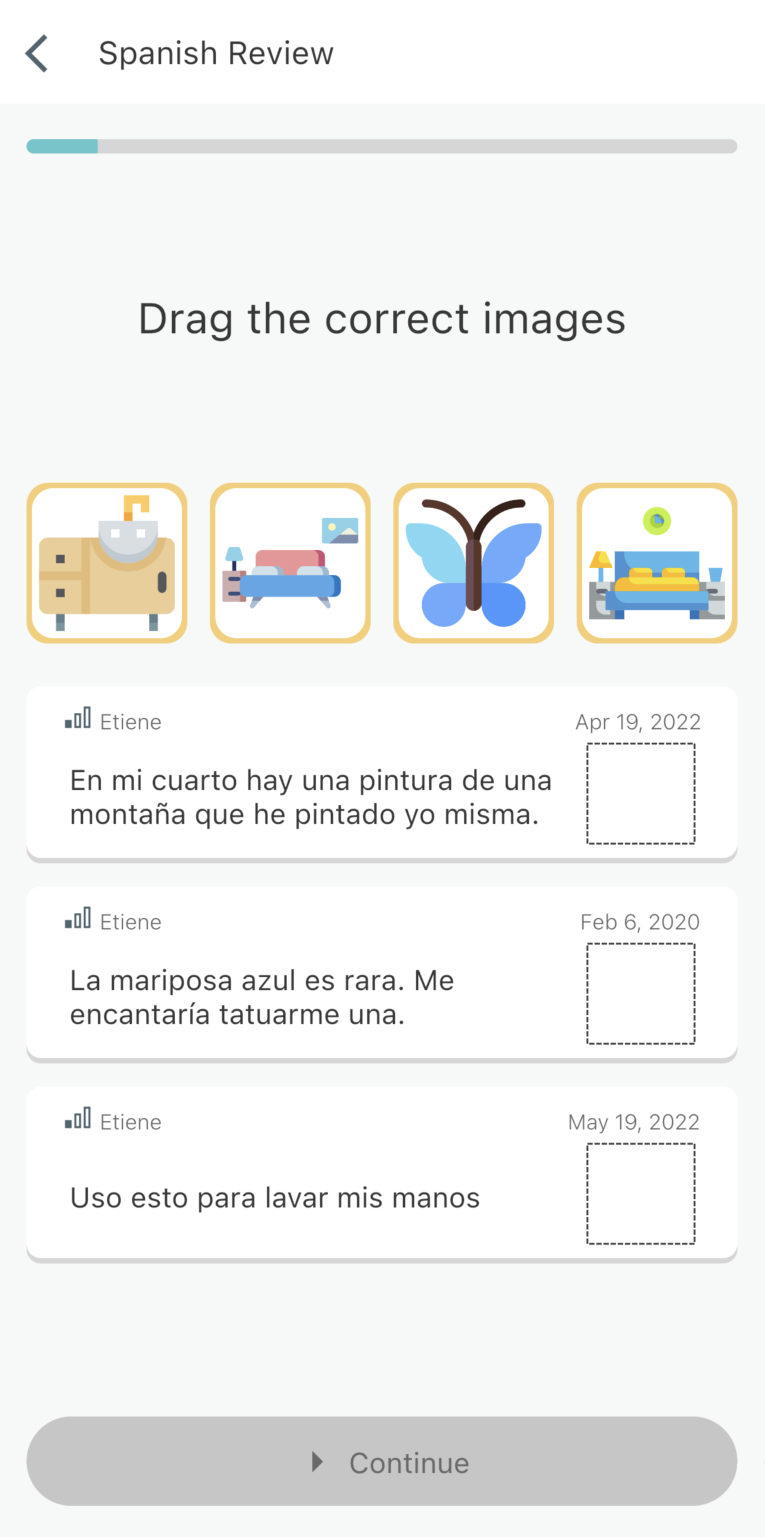 The idea is that, after you've played a few matches, perhaps you're a bit tired and there's not much else to do in the app. Once this feature is in, you'll then be able to go through the content you have written or received. This will help you remember what you've learned recently, and have another layer of reinforcement with some passive study on the top of the active learning you usually do on Polygloss.
I am also working on an option to go through texts other people have written. That would give you some extra exposure to the language, and give another purpose to the texts being accumulated in our database. Plus, it would give players more opportunities to receive awards and corrections.
What do you think? Let us know in the comments 🥰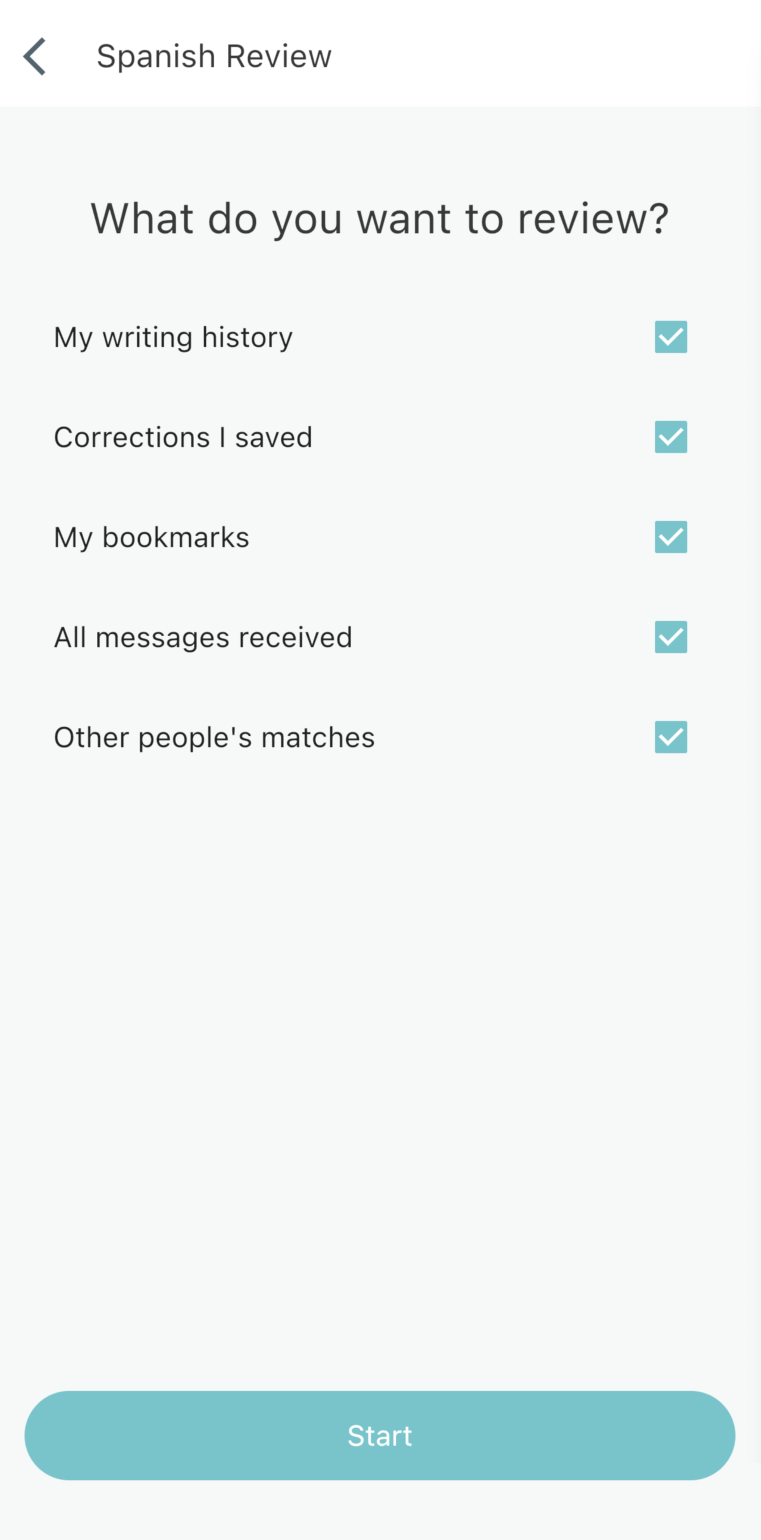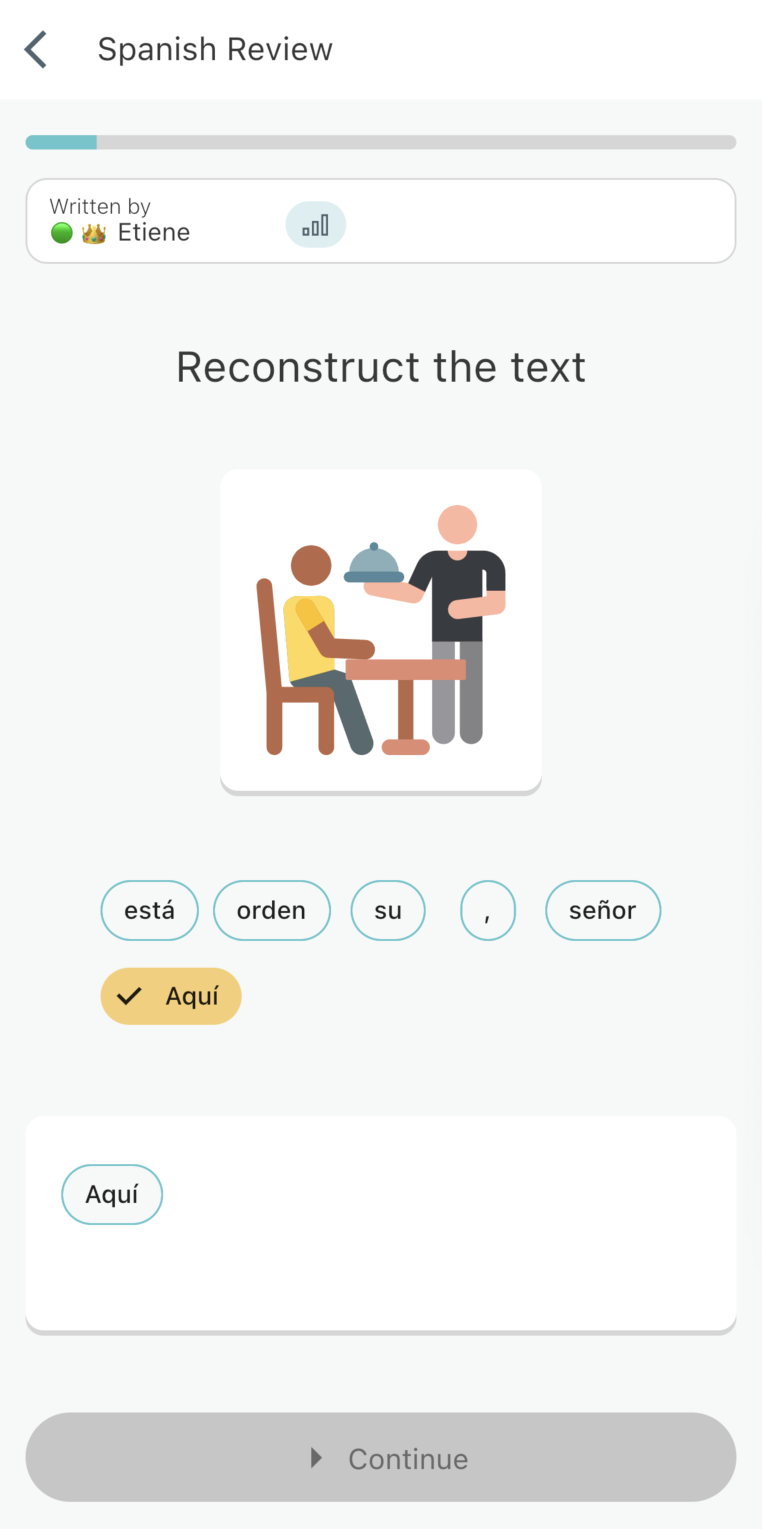 Latest from our blog
Have you heard of Toki Pona? The language with only 120 words?
The first time I encountered it was when I saw it in someone's profile while playing Polygloss. Being very curious, I started searching about it and was immediately intrigued. It's a minimalistic language inspired by Taoist principles. Even though it's a conlang that was not designed for general communication, it has gathered a sizeable community since its creation and has thousands of speakers today! Why is that?
Find out more in our blog post below 👇
Learning Toki Pona, the language of good
Best feedbacks and shout-outs
Every time we send out a newsletter, we will pick the player who gave us the best feedback or shout-out in social media and send them a surprise prize! 🎁 Tag us on twitter, IG, tiktok or facebook to participate. The winner this month is @WrexhamWelsh!
Nurse! Please put the heart back in the chest! @polyglossapp #welsh pic.twitter.com/VcEBNI7F6e

— WrexhamWelsh (@WrexhamWelsh) January 15, 2023
Polygloss statistics
In the last month, Polygloss players wrote 30,860 texts in 66 languages!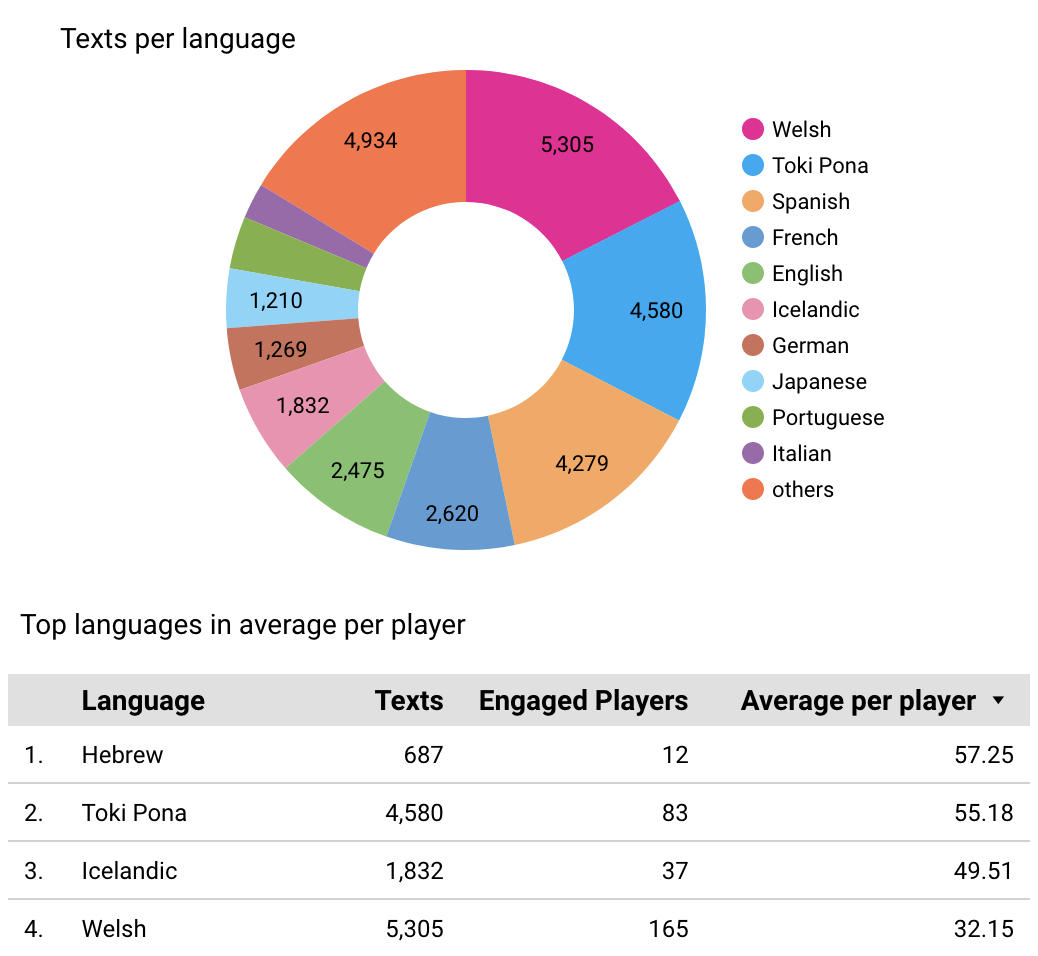 Highlights of last month:
Congratulations to the Toki Pona community! The language went up from the 4th to the 2nd place in average texts per player, and is now the 2nd biggest language in Polygloss. 💪
Welsh remains strong in the first position of most used languages, and went up from 5th to 4th in average per player.
Hebrew lost some positions in most used languages, but remains strong at the top 1 for average per player.
Supporting Polygloss
👯‍♀️ Share Polygloss with your friends
Polygloss is a collaborative game: the more people play, the better the learning experience. Inviting other folks and helping us grow our community is the best way to support us! Tell them what you think of the app, and send them the link to our website: https://polygloss.app
Other ways to support Polygloss:
⚡️ Subscribe to Polygloss Unlimited, we have pay-what-you-can monthly, yearly, and lifetime plans. With the subscription you get: unlimited energy points to spend, a special crown on your username, and access to the listen button during matches. Click here to see the full breakdown between free and paid features.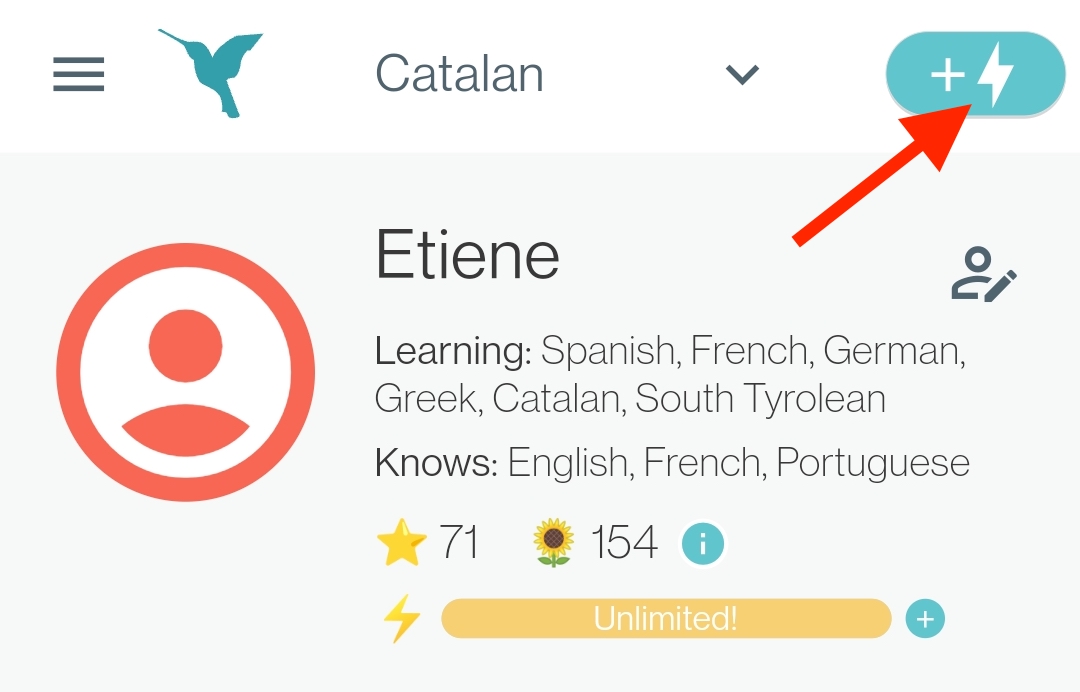 🌟 Write us a review at the Android Play Store or at the iOS App Store so more people can find and download the app.
🐦  Write a post about us on social networks.
💪 Volunteer to become a permanent member of our team who can reach out to language communities on a regular basis. See more at our Governance Notion page.
💌 Send us feedback and suggestions.
Recommended
[Kurdish] Kurmanji Learning Resources List
[Welsh]
Enjoy artist Bronwen Lewis who creates beautiful music in Cymraeg, with subtitles and translations.
[Icelandic] 50 songs in Icelandic with Lyrics on Spotify
---
What did you think of these updates? Drop a comment below, we'd love to hear your thoughts 👇
---