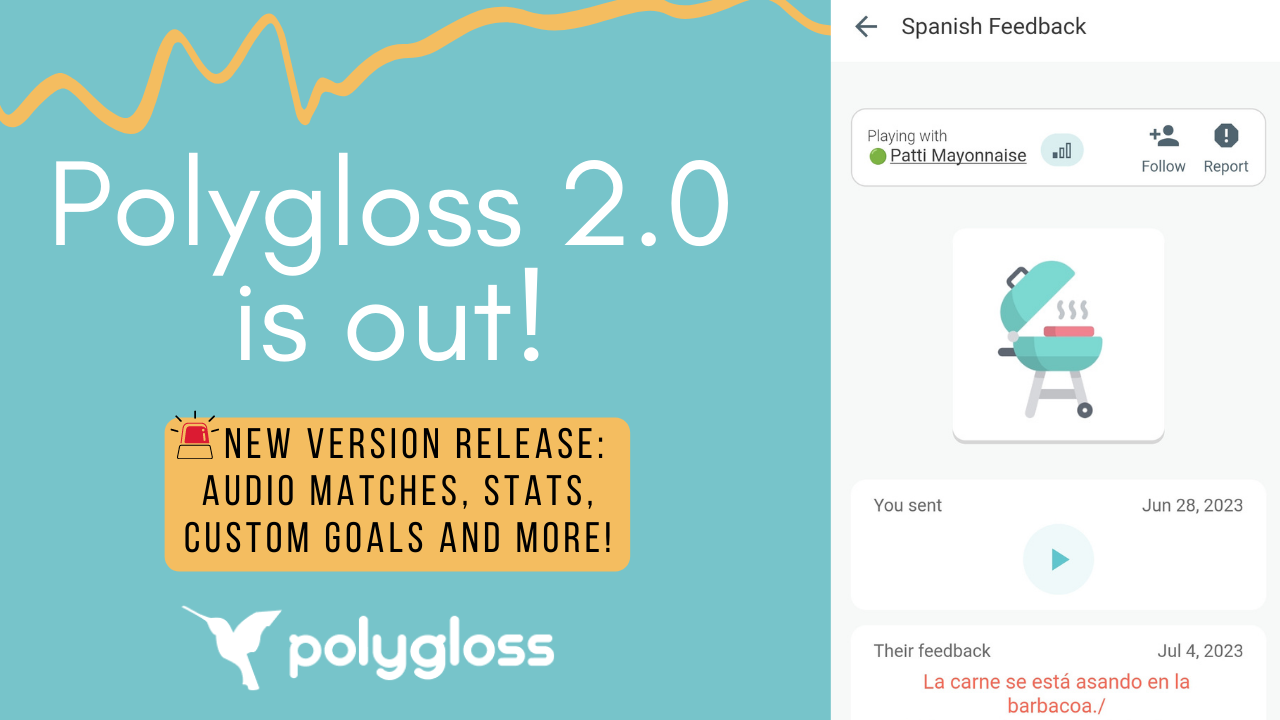 This newsletter's topics:
App updates: Polygloss 2.0, now with Audio and much more!
Polygloss news: Product Hunt Launch
From our blog: Why learn Welsh
Polygloss statistics
Recommended resources
🆕 Version 2.0 is out!
Click here to download / upgrade.
Help our community by giving the video a thumbs up and leaving a comment 👆
What's new?
🎙️ Audio Matches
This has been one of the most requested features for Polygloss and I'm so excited it's finally here! You can now send and receive audios instead of text in your matches. This is a Polygloss Unlimited feature. Make sure you subscribe to unlock this and many other premium features such as unlimited energy. Another benefit is that when you start a new match and send an audio, your partner can respond with an audio too regardless of their subscription status. Along with this feature, comes the possibility to send an audio correction, and a new "Perfect Pronunciation" player reward.
📈 Words and matches statistics
💁‍♀️ Profile pages with personal link or contact
Your profile now has a much richer experience, showing you more detailed stats of your Polygloss usage, including how many unique words you have used so far in text messages. This profile will be visible to others, and during matches you can see more info about your partner, such as which other languages they speak. If you are a Polygloss Unlimited subscriber, you can also include a website or email address to your profile, which will be visible to all on your public profile.
🎯 Customizable daily or weekly goals
Define a goal for yourself of how many messages you want to send, daily or weekly, and track your progress.
🔎 Discover new friends and see top player rankings
Do you want to find more players to play with? Welcome new players by sending them a match? See who's online now? Tap the "Discover" button on the friends tab!
More updates:
📶 Get more points for writing more
🎵 UI sounds (can be turned off on settings)
🖼️ New welcome screen
🔴 See writing dates and differences with the original sentence when receiving a correction
⏰ See how long you have left to answer a match
🗝️ Unlock both word hints and message examples if available
🔤 Updated Google Translate which includes new languages
⚡️ Polygloss Unlimited coupons
❌ "Pass" button on review
👩‍🏫 Add tutorials while playing match
💖 Fixes and improvements to match partner finding algorithm
💖 Improvements to algorithm for redistributing inactive matches
🖼️ Lots of small UI fixes and tweaks
📈 Performance improvements
❌ Dismiss button on all bottom pop up messages
🧪 A/B tests: allow editing match text
🐞 Fix energy update when unlocking hints
🐞 Fix proficiency level wrong on match completion screen
🐞 Fix occasional bug saving friends list and when blocking people
🐞 Improvements and bug fixes with word reordering review
🐞 Fix bug when opening matches for some players
🐞 Fix app reloading bug when backgrounding app
👩🏻‍💻 Code modernization, upgrades & refactors
🚀 Product Hunt Launch
Polygloss will launch on Product Hunt on July 25th 2pm Central European Time. This will be a key moment for our project and we need your help!
Help us be successful on the launch day by upvoting, rating, and leaving a comment in our product page. Add a reminder to your calendar.
Why learn Welsh?
The first blog post of the Welsh series for the Polygloss blog is out!
If you're interested in learning Welsh you should check it out here: 👇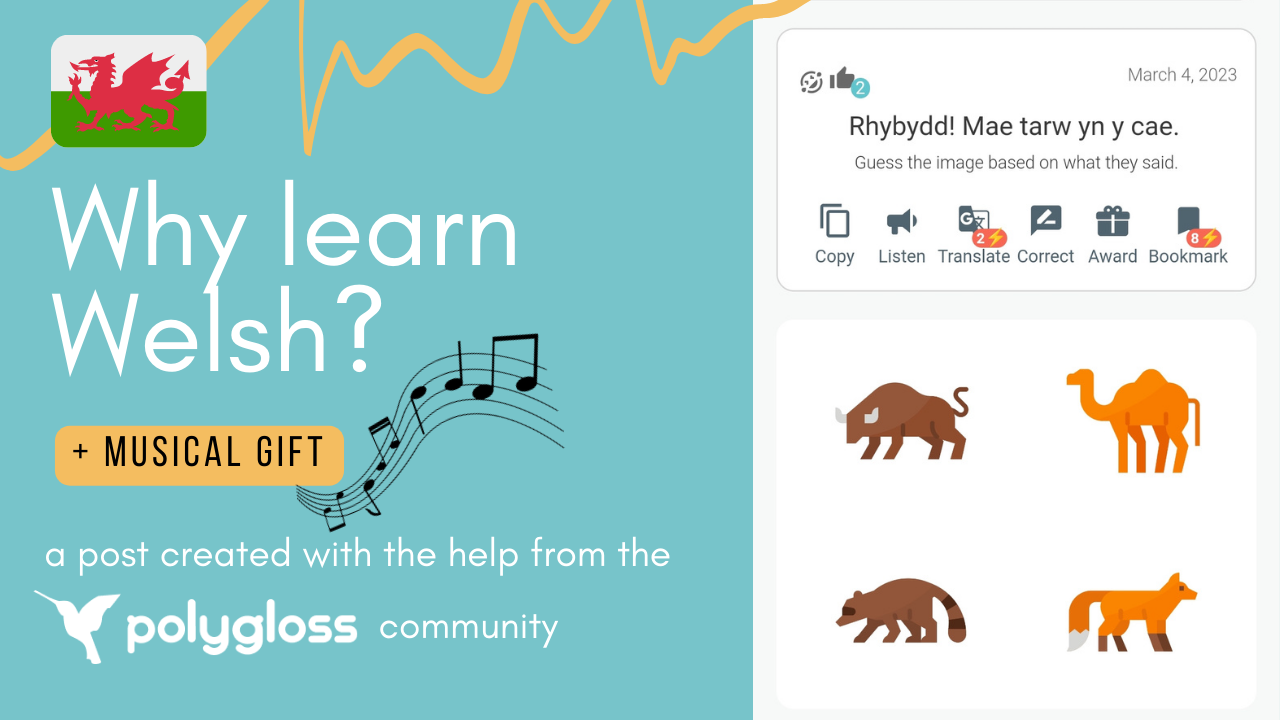 Polygloss statistics
In the last month, Polygloss players wrote 11,850 texts in 55 languages!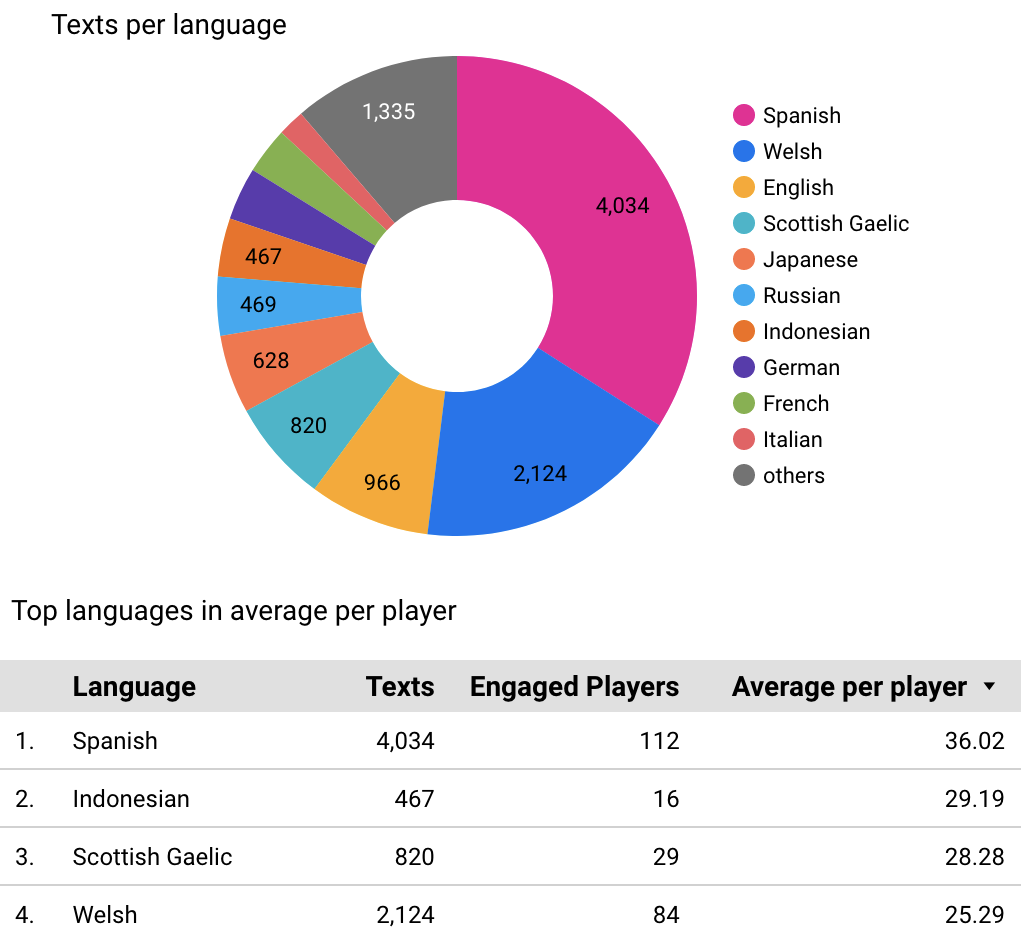 Highlights of last month:
Congratulations to the Spanish learning community! The language passed 🏴󠁧󠁢󠁷󠁬󠁳󠁿 Welsh and went up from the second to the first position overall, and passed 🇮🇩 Indonesian as the language with the most prolific players 💪
Congratulations to the 🏴󠁧󠁢󠁳󠁣󠁴󠁿 Scottish Gaelic learners! You went went up one position from last month in number of average matches per player 💪
Supporting Polygloss
🐦  Write a post about us on social networks
Polygloss is a collaborative game: the more people play, the better the learning experience. Inviting other folks and helping us grow our community is the best way to support us! Mouth-to-mouth marketing is the most cost effective and can't be done without your help. Tell people what you think of the app, and send them the link to our website: https://polygloss.app
Other ways to support Polygloss:
⚡️ Subscribe to Polygloss Unlimited, we have pay-what-you-can monthly, yearly, and lifetime plans. The possibility to buy a lifetime subscription is not going to be unlocked to all players forever, so get yours while you can! With the subscription you get: Unlimited energy points to spend on translating and bookmarking messages for later, review mini-games, and rewarding other players. A special crown on your username. Access to audio matches in any language, and text-to-speech in 10 languages. Click here to see the full breakdown between free and paid features.
👯‍♀️ Share Polygloss with your friends.
🌟 Write us a review at the Android Play Store or at the iOS App Store so more people can find and download the app.
💌 Send us feedback and suggestions.
Recommended
[All / podcast] Because language: a podcast about linguistics, the science of language
[Welsh] Follow on Y Fflamiadur on twitter for regular Welsh tips
[Macedonian] Blog post: Using Polygloss to learn Macedonian, by Tamara Atanasoska
---
What did you think of these updates? Drop a comment below, we'd love to hear your thoughts 👇
---